Tasty and healthy dishes
genuine products from the farm Wolfenhof
Life on our 
wellness farm in Colle Isarco
 in addition to its relaxed attitude to life also offers another big advantage. Concerning 
culinary pleasures
, at the farm Wolfenhof in Alta Valle Isarco / South Tyrol you will be in a place, where every day you can enjoy 
fresh and healthy farm products
. Milk, bacon (Speck) and fresh herbs and vegetables from the garden will fill your fridge. Furthermore, we also offer a selection of premium home-made jams. The fruits come directly from our garden. Healthy and natural – enjoy the taste of South Tyrol!
Breakfast on the farm Wolfenhof
the best way to start your day!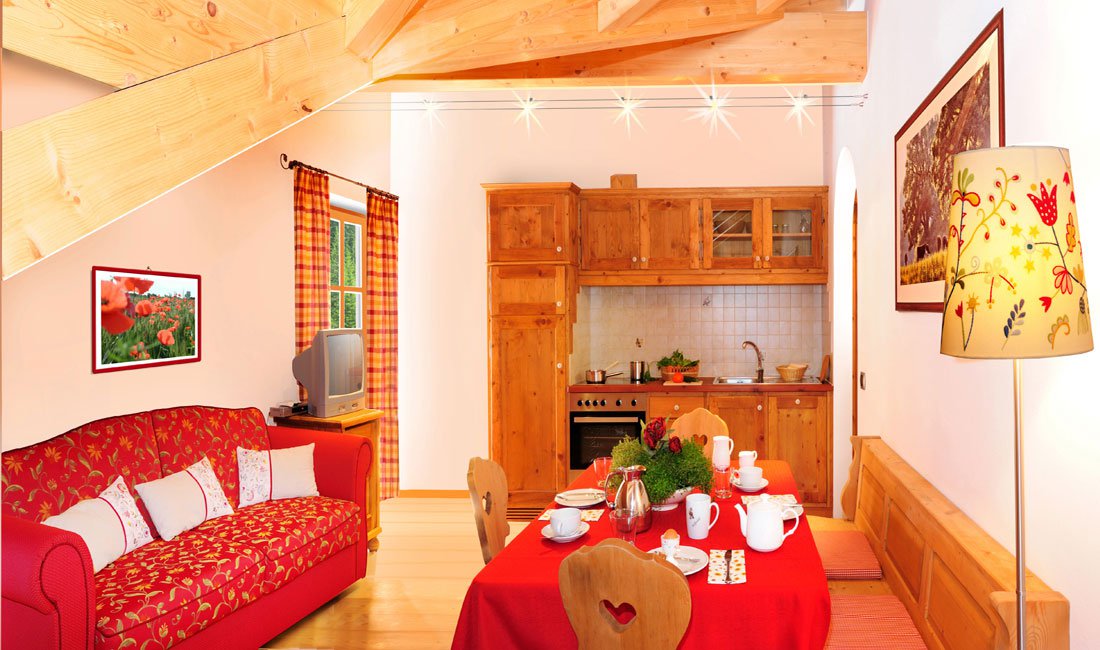 Every morning a rich breakfast basket will await you. Enjoy a rich breakfast with homemade products, fresh milk, eggs, bacon, homemade cakes, jams, fruit juices, yogurt, butter and much more.
We are happy to bring you the well-stocked breakfast basket or just fresh bread in the apartment. Our local baker delivers fragrant wholegrain bread and a variety of white bread.
The cosy antique wood lounge (Stube) on your wellness farm

Dine like a king in France – just a little better! Here, on request we will serve you traditional South Tyrolean specialties. And also here you will immediately taste the freshness and high quality of our homemade products. The South Tyrolean cuisine is very seasonal – you will therefore enjoy a variety of different culinary highlights in every season. In the summer, we'll organise BBQ evenings.